Riyaaz marketplace
This is a place to sell, buy and share Ed-tech products and services. This is the first marketplace for MOOC(massive open online courses). With this platform, we enable even individuals who would like to showcase the courses they already have developed. Further, with the innovative technology of SOWISO, we enable and power the efforts of open access education as described in the "UNESCO's Paris OER declaration."
Further, within the Netherlands, SURFnet and Open education Interest group has detailed the plans for why there is a need for the platform to enable: "The establishment of a platform for the sharing and resuse of open educational resources would help improve findability while offering greater certainty in terms of quality and usability.
This is where Riyaaz partnered with SOWISO to begin with this platform which will help contribute to the accessibility of new and modern education products.
Happy selling, buying or ride freely!
Services
We provide content design services exclusively to our partners SOWISO based on their requirements and business needs. We create interactive academic e-learning content. This content can be used as an academic textbook or an e-learning course. In the textbooks high scientific content is offered using a unique platform to make it possible to personalize the content to the needs of the student. These textbooks can also be helpful for university administration and professors. Tests can be taken online where the grading is done automatically, saving professors valuable time. This way we help our clients take their education to the next level, so it fits today's generation of students.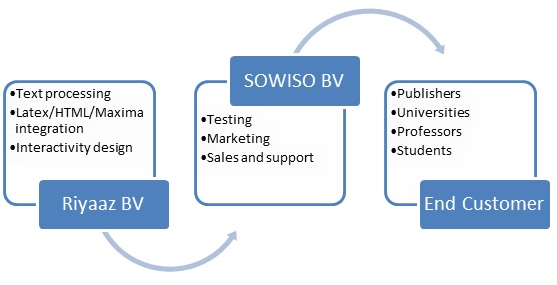 Consultancy
To universities, who are looking to




Revamp their curriculum,

Introduce new courses based on job market,

And looking to adopt an MOOC platform.

MOOC platforms



Text analyti

cs

Market insights

Data needs

Helping them find topics for new cou

rses

Students



I

n the ar

eas of career counselling
Our consultancy will be packaged in the form of data driven interactive reports which are developed on the concept of "open access platform for data" using the enhanced and innovative technology of a startup company from Amsterdam, named silk.co. This work is in line with the European Union Horizon 2020 projects and will cater to researchers and professional at small, medium and large corporations. Our company will provide interactive data reports which can work on both mobile (like an app) and on desktop. We already showcased our reports during the launch of "Netherlands India Chamber of Commerce & Trade."